Some of you may know that I do a little dumpster diving on occasion. Today, I had a pretty major score. You can check out the results over at HiR Information Report.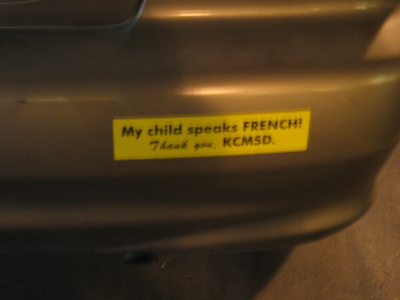 Oh yeah. I saw the bumper sticker on the left today as I left the parking garage.

KCMSD is Kansas City, MO School District. I kind of chuckled to myself as I pondered the juxtaposition had it mentioned Spanish instead of French. Racism, anyone?! There's a significant Latino constituent here in KC. Who cares if KCMSD lost its state accreditation? As long as our kids know how to speak a language that has zero practical application in Kansas City, we're good to go. Thank you, KCMSD!