It's been quite a while since I visited the West Bottoms, one of the oldest parts of Kansas City. It's dripping with both character and blight at the same time, and is a genuinely fascinating place to be. It's directly west of what is now "downtown" Kansas City, MO.

One of my favorite places in the Bottoms, not because of history or anything like that, is Surplus Exchange. They sell old used furniture, computer hardware, electronics and other fun stuff. I haven't been here in about a year. I took Broadway to Woodswether Road, which is a relatively un-used path to the West Bottoms from my office.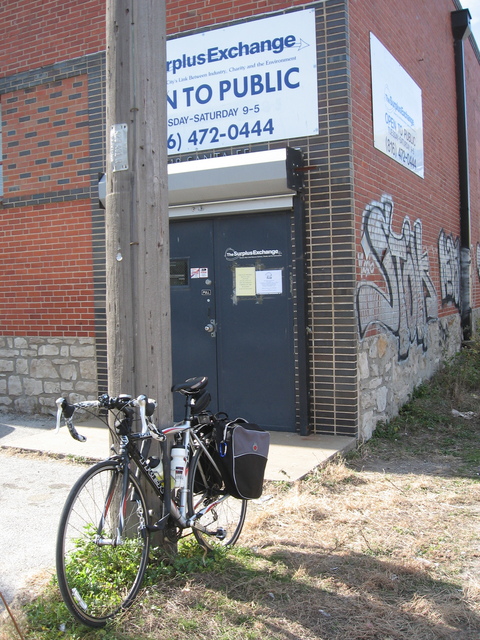 Next, I was hungry for a burger, and Jeff told me about Jerry's Woodswether Cafe on 9th street. I saw it while putzing around in the Bottoms and swung by for a burger.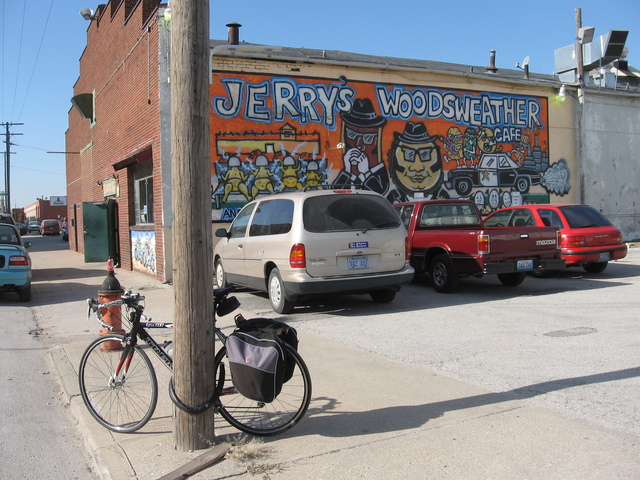 I made the mistake of ordering a double cheeseburger. I figured it would be like a Wendy's Double. which is in and of itself a pretty filling sandwich. When the waiter asked "Really? A double?" I should have queried why exactly this was such a big deal. No. I was just hungry. I got food alright. This burger was MASSIVE! Forget "I can has cheezburger?" This was "I can has a whole cow plz?"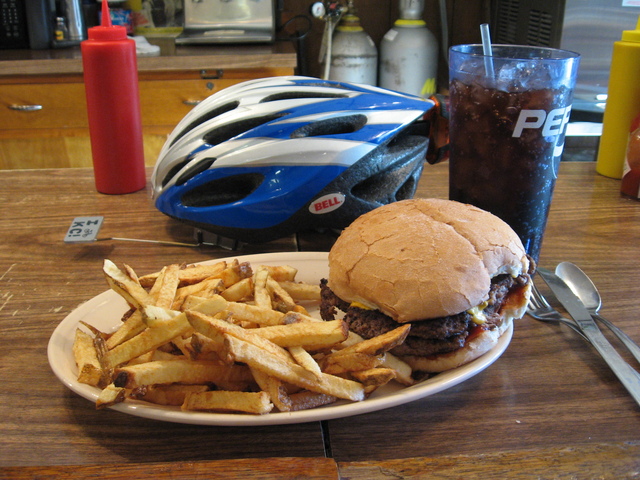 I rode through the 'Bottoms to the lower level of the 12th Street Bridge, and slogged To Beardsley to get out of the bottoms and back to work.

The ride home was insanely windy. A few miles into my ride, Karen caught up with me from behind and I suppose we shared the misery of riding both into the wind and into the blinding sun, glaring off the roadway. It was too windy to even think of talking, so we just settled into some good solid pace work against the wind, and I kept my eyes open for cars coming up from behind that might not see me because of the road glare.

Random Tunage:
Orbital - Planet Of The Shapes
Chumbawamba - Tubthumping


What follows are more pictures I took over lunch. The big spiral on the side of the building is the only way out of The Edge Of Hell. Enjoy.