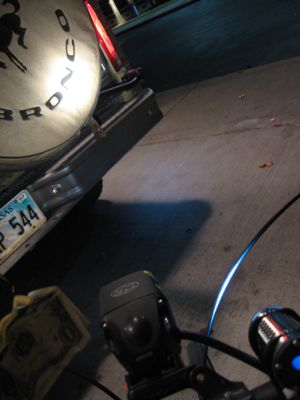 Photo: Waiting in line behind an old Bronco II, money in hand, for my breakfast.

I upped the game this morning by riding in shorts and a t-shirt, although it was barely 50 degrees. Normally, I'd wuss out and wear jeans and at least a long-sleeve shirt, but I felt like sprinting this morning. I also felt like getting breakfast. I was also quite tired from playing around with last night's project and -- yet again -- getting to bed way too late.

So, I sprinted. I sprinted like I had rabid greyhounds chasing me. I kept it above 20 MPH going up the Quivira viaduct, which is usually the bane of my existence. I got up to 40 on the backside of the viaduct, and held it over 30 MPH to Burger King, where I pulled in to partake in a sacred tradition here in the fat belt of the USA: A breakfast comprised almost completely of carbohydrates and cholesterol. I packed my prized breakfast into the panniers, then continued my sprint to the bus stop where I sat and digested it in plain view of the few early-arrivers.

One guy didn't know what was the most peculiar part about me, as he pondered out loud whether it was the fact that I was wearing shorts in 50 degree weather or the fact that the guy taking the healthy mode of transportation was the one pigging out on cini-minis. Oh yes -- a very clever guy, indeed.

A mocha on top of cini-minis would have certainly sent me plummeting into some sort of diabetic coma, so I eschewed my usual concoction, instead quaffing whatever the dark-roast-brew-du-jour happened to be.

Random Tunage:
Britney Spears ft. Madonna - Me Against The Music (Gabriel & Dresden Club Mix)
Kelly Clarkson - Since U Been Gone (Jason Nevins Mixshow)

Okay, what in the HELL is with the bizarre pop-star remixes in my playlist this morning?! I feel icky now.