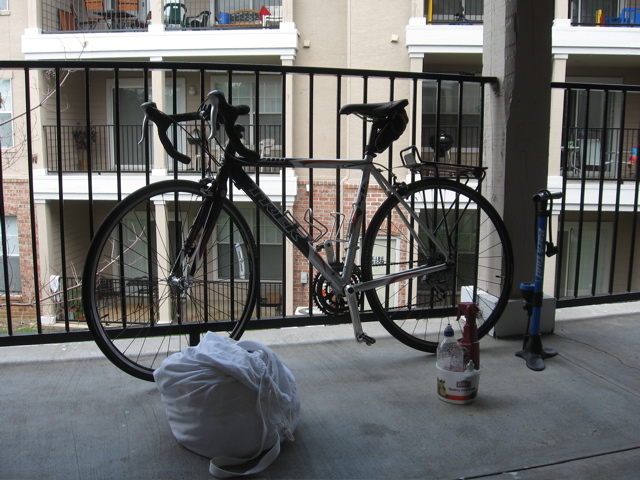 Photo: So Fresh and So Clean! The 1200's ready to rock for tomorrow's Commuter Convoy. Don't forget to sign up if you plan on meeting me there.

What a month! My wife and I are almost completely settled in at the new place, although we still have an Explorer that's been completely packed with stuff since the 29th, or about 3 days. Once we get the remainder of the boxes situated that are already up here in our apartment, I'll go unload the Explorer.

This month, I did have fun on my bike and I am reliably under 200 pounds. June's goals were met without a problem. I used my mountain bike quite a bit, both for some of my recreational riding and for commuting on wet days. I used my hybrid for a few days, too. So, I used all my bikes this month.

Days Driven to work in June: 0
Car-Free commute days in June: 17
Days I used my bike instead of my car for errands outside work in June: 14
Total Miles ridden in June: 295

2007 Cumulative Bike/Drive commute ratio: 3.83:1
2007 Cumulative Transportation/Recreation miles ratio: 2.92:1
2007 Cumulative miles ridden: 1,577
2007 Cumulative Commutes by bike: 92 round trips

July Goals:
July is going to be a scorcher from the looks of things. It will be a challenge of my will to meet my goals for July.

Ride a full round trip on average at least twice a week, without the bus or car.
Get my 2007 Cumulative Bike/Drive ratio up over 4.0:1.
July will be another 400+ mile month.