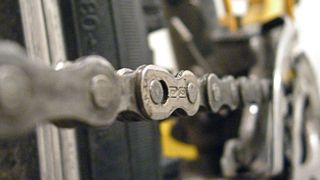 I wrote a review of the SRAM Power Link chain over at Commute By Bike. I've been using the same SRAM chain for about a year and a half now on my mountain bike. It's endured lots of rain, slush, snow and grime since I started using it. It's in the middle of its second winter of full-time bike commuting, too.

Highlights:

Power Link master link is easy to use
Makes deep-cleaning your chain a quick and simple task
Power Link is just as strong as other master link systems (such as pressed pins)
Requires no tools to remove and install your chain
Go check it out
to see the full product review with photographs and more details.