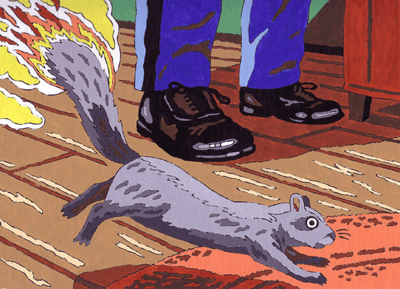 From the "WTF?" department, we have a story of a squirrel. And Warren thought he had a squirrel problem.

Flaming squirrel ignites car. No. Really.


Lindsey Millar, 23, and her brother, Tony, 22, were both home Wednesday at about 12:45 p.m. when Lindsey's car suddenly started burning outside their 42nd Street home.

Tony Millar said firefighters told them it was the work of a buck-toothed saboteur that had been gnawing on overhead power lines connected to a transformer directly above the 2006 Toyota Camry.

Click to read the rest of the story
. Oh well, the only purpose squirrels serve is to die and be a warning to other squirrels. Or so it seems.
Random Tunage
:
Deep Blue Something - Breakfast at Tiffany's
Harvey Danger - Flagpole Sitta