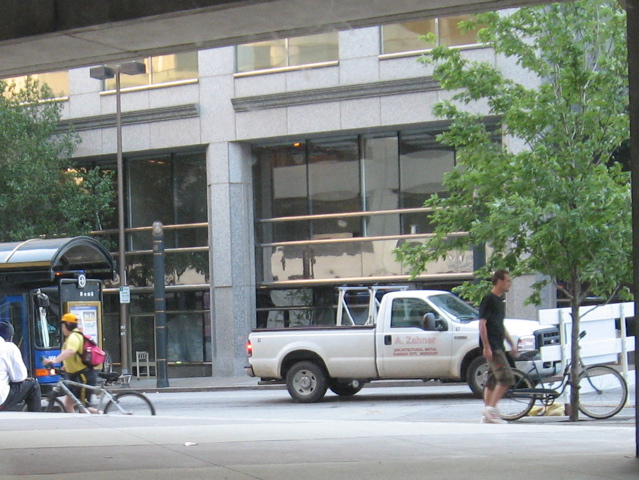 Photo: The single-speed cruiser bike on the right has its handlebars mounted backwards. The end result looks like bastardized bullborn bars. On the left, a city worker walks her bike, preparing to wake up someone who's sleeping in a metro bus stop hut. You can't see it, but there's a bike on the bus behind her, too. Just another morning in downtown KC.

I arrived to the bus without any gremlins. My tires held air. My gears shifted. My speedometer and lights worked. Amazing.

I left home at 6:03 thinking I might have a chance at catching the first bus out of town. I usually consider the bus a write-off if I leave less than 15 minutes before the scheduled bus departure time, but worst case scenario, I miss this bus and get the next one 15 minutes later. Yesterday's ride was still present in my legs, I could feel the burn even as I put my shoes on for the ride.

There were clouds building to the south and west, and I swear I felt a little sprinkle on my way in. The wind was blowing northeast as usual, so I had some headwind to fight on my first leg. I got to the first stoplight at 6:07, about a minute or two behind when I usually get there. That means I'm a minute ahead of myself on my travel time. I hammered up the 127th viaduct and got to the intersection on schedule, at about 6:11 (I usually get there at 6:10 or 6:11 if I leave on time) and hammered my way to the bus. I got there just in time.

Sitting ahead of me on the bus, I saw Chris, a fellow occasional bike commuter I've written about before. Like nerds, instead of shouting over the gossipy din on the bus, we exchanged greetings online and I told him how the Gringo's ride went.

With that, my legs are tapped, I'm drinking my pre-work Mocha, and I'm wide awake. Hopefully that's a good sign.