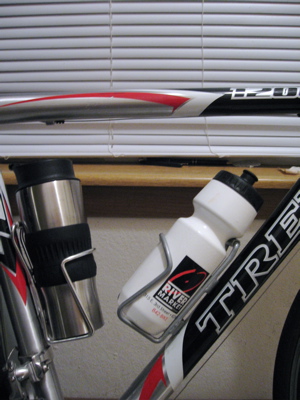 Photo: "cold setting" my vertical bottle frame allows my travel french press to fit on my bike. It will help tomorrow morning.

I'm going to try to make the full trip to work one last time before I move. Tomorrow, my wife and I have an appointment to meet a manager at our new apartment. Unfortunately, the bus can't get me there before they close, so I'm also going to ride straight from work to the apartment complex, thus beating the bus and getting to the apartment on time.

I didn't get to ride much tonight. Just a little bit to navigate around campus and to run some errands. My wife left my car at the college last night, so I had to drive home from JCCC with my bike in the hatch. I'll obviously make up for the mileage tomorrow.