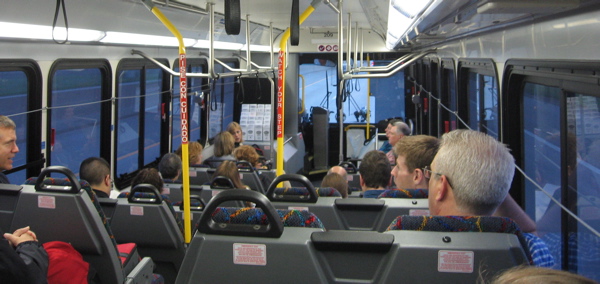 I shared this bus with 28 other people this morning.

The air was humid and foggy, and almost 60 degrees upon departure. As I left my parking lot, I felt something was missing. Helmet! I had to turn around and go back up to my apartment to fetch ye olde skid lid.

I got practically zero sleep last night, maybe 2 hours broken up into chunks. I have no clue what caused this phenomenon, either. Rest assured, when I find out, I'm kicking its rear. To addition, my legs can definitely feel the effects of slogging about 15 miles in my woefully inefficient and heavy Sorrento yesterday, and riding platform pedals with flexible tennis shoes gave my feet something achy to wake up to.

In contrast to the mountain bike, I looked at my average speed today, and even in my current zombie-like state, I pulled off 14.6 miles per hour, a "hammering" average on my Diamondback Outlook without any hammering on my Trek 1200. I'm wondering what my average will be when I can really get on it. I am simply too tired today to take hills without granny-spinning.

I know I've been talking about speed lately, and I've been doing it without talking about any impressive numbers. One reason is that speed is about the only functional thing my new Trek 1200 is good at. Looking awesome isn't functional. I was ready to make some sacrifices to get around faster when commuting, and to cover more miles in the same amount of time when riding for fun. I just didn't know how different this would be.

A road bike sacrifices "squishy" feel for a more direct, efficient and tactile engagement with the pavement. It trades climbing ability for close-ratio shifting and high speeds. It ditches rugged versatility in exchange for light weight and superior rolling resistance. As such, this bike's dynamics are so vastly different from anything else I've owned that it really does require a complete change in the way I ride. If my Sorrento and Outlook are bicycles then this must be something different.

I love it, but it took me until last Friday to really come to terms with these facts. Moving forward with this knowledge, I noticed that I felt a lot more "at one" with my road bike this morning. With all of my previous bicycles. it took me a few weeks to really get that zen-like feeling of having the bike as an extension of myself. This morning is the day that I felt it once again.