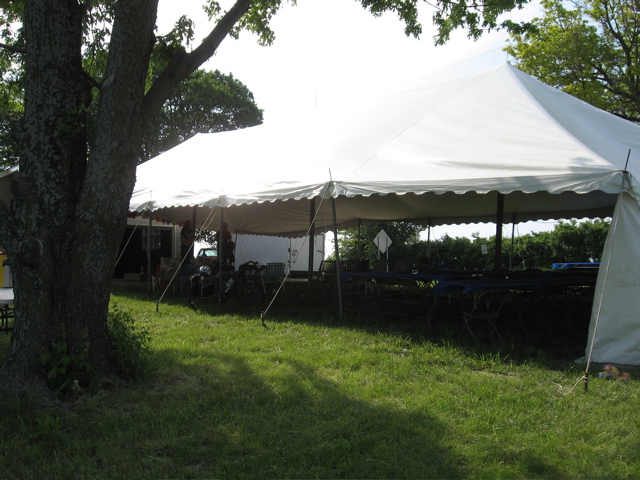 On Bridging The Gap's Bike To Work Week calendar of events, today is the last official day. I wasn't able to make the wrap-up party, but I did get to ride to church. Usually, my church meets in the practice auditorium of Olathe East high school. That's about a 3.5 mile ride. Every year, over summer, there are times when there's remodeling or construction going on around the school district. When that happens, we can't meet in the auditorium.

Last year, we met in park shelters at Heritage Park and Cedar Lake Park. This year, however, my church has some property that we're developing into a community center. We decided to raise a tent on the property and hold service outdoors under the tent. The weather was awesome! It was a bit on the windy side, but overall, it was a good time. The property is about 7 miles from home, so I had no problems riding there. I left early enough that I could turn it into a leisurely stroll once I got away from traffic.

If you look at the photo, you can kind of see my bike leaning against a support post. I got there really early. Our praise team was warming up and practicing, and a few people were setting up refreshments and praying. I just sat down and meditated for a while. It was a nice change of pace, as usually I have to set up and run sound, video and/or lights. None of that out here under the tent!