I think I officially loathe spring. It was 64 and rainy when I left for work this morning. Now it's dry, but it's 50 freaking degrees out, and I'm wearing shorts and a t-shirt. I was at Daily Dose hanging out with my Dad over some coffee, and returning to him the church laptop. Even though it was only 3 miles or so from JCCC to Daily Dose, it was too darn cold to be riding in shorts. Dad loaded my bike up into the car and brought me home, sparing me (or robbing me?) 6 miles. I promptly hopped into some jeans and a hoodie when I got home. It's supposed to be freezing overnight. That's where this is going. Look at that weather forecast! I guess I'd better make friends with the hoodies and jeans again! GRR! At least I have a padded liner to wear under my jeans now.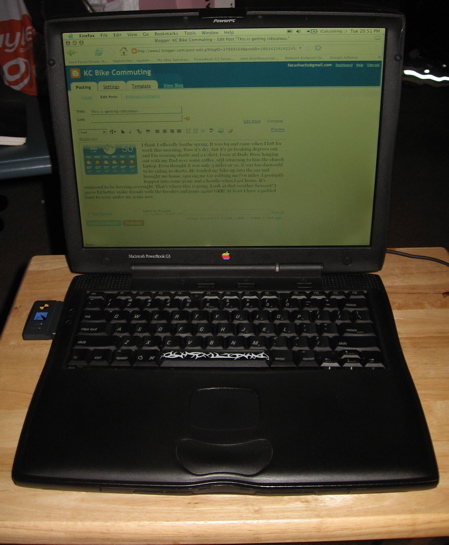 Bonus Photo? Can it be?! Noah hard at work... on the G3?! Yes, I broke out the trusty G3 PowerBook to post this stuff. Even though it's 9 years old, it's still a worthy machine.

I'll admit it. I'm kind of a Mac fan. But I'm also kind of a Sun Microsystems Fan, OpenBSD fan, among other things.