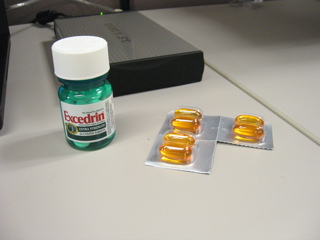 I've basically been sick all week. This NEVER happens, I just don't get sick, or if I do, it's only for a day. I'm not really all that sick, but I feel run down, hazy, my sinuses are flowing fountains of mucous, and I've had a mild headache for the past 4 days.

I still rode in, though. It was about 20 degrees when I left, but otherwise there was nothing worth mentioning on my way to work. I have the PHP User Group meeting tomorrow, I think I'm going to ride my bike there. It's at The Daily Dose, so it's not a trip I haven't made quite a few times already. I'll make sure to get plenty of sleep this weekend, and I probably won't use the bike at all on Sunday.

It looks like we have more snow headed in this weekend, so I'll probably be stuck on the Sorrento for a while. I've been wiping it down every night, but it needs a thorough cleaning and lube this weekend.

I probably won't post again today unless I get a great photo or something bizarre happens on my way home. I plan on taking my plain old route home, no JCCC or anything fancy tonight.