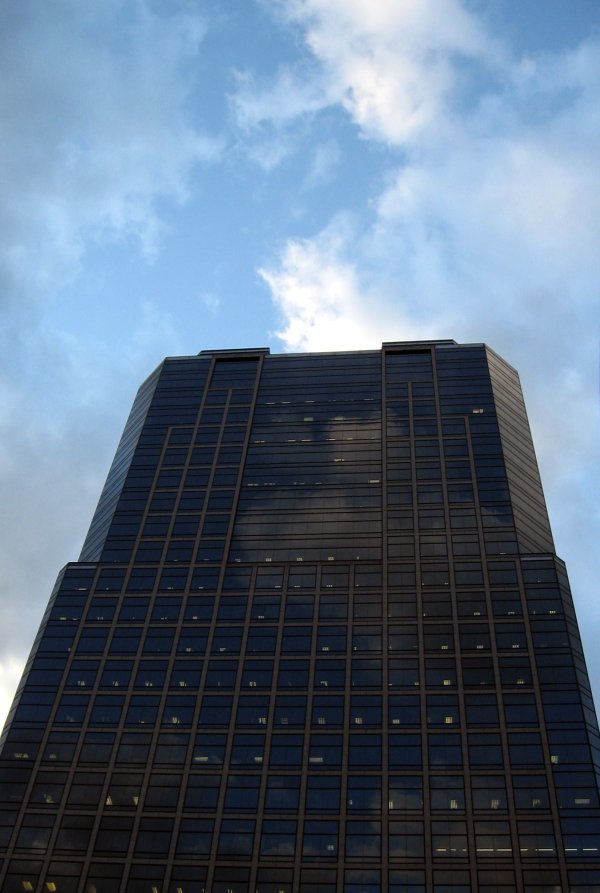 Photo: a winter storm front looms above downtown KC. Cool winds out of the north are colliding with humid air from the south here in the midwest. Hard to believe they're predicting a mild ice storm overnight, considering the fact that I'm sweating right now wearing jeans and a t-shirt. I'm definitely swapping over to the heavy but sure-footed Diamondback Sorrento tomorrow, just in case.

One of my co-workers asked if I was going to ride my bike tomorrow since they're predicting ice. I'm pretty sure he was hoping that I'd say "Of course not!" but instead, I answered "I won't ride THAT bike tomorrow, my other one will probably do a lot better on the ice." He looked at me like I'd grown another head. I love that. Co workers that think I'm crazy keep me motivated.

It's the oddest phenomenon, though. I am short. I'm visibly out of shape. There's nothing special about me, and my co-workers have this perception that I'm some kind of uber-athlete. Truth is, on my most trying days I might put in 20 miles, and most days, at least while it's cold out, I ride 6 miles, give or take. Almost anyone in my office could put three miles on a bike twice a day if they wanted to. It's all in their heads. Sure, it might take them 30 minutes to cover those 3 miles the first time out, but they could do it.

What's sad is that they probably know it's all in their heads, but as long as I continue to ride regardless of weather, they still don't have a good excuse. I think that's why people start prodding me when the weather gets bad.