A few weeks ago, Mike Hendricks of the KC Star interviewed me. In the middle of Bike Week, Keith from the KC Star photographed me (and I photographed him). I didn't know exactly where the article was going, but I gave my all to paint a positive picture of my route. After all, this is the best bicycle commuting route I've ever had, even though it's littered with diagonal rail road crossings.

Enjoy: Happy Trails to you, cyclists

KC Star did caption the below photo to indicate that I had made a hand signal to indicate my intent of taking the lane before cutting across the diagonal rail road tracks. I had also made eye contact with the Dodge driver behind me, and he'd slowed down to let me proceed. This plays out several times per day on my usual commute. Motorists along Santa Fe Trail Drive are usually pretty easy to get along with.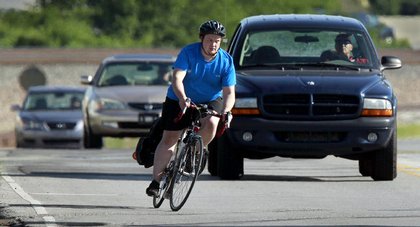 Photo of me from linked article. Copyright KC Star/Joco913