Do not lick bicycle when cold!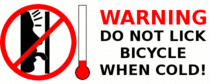 This all started when Apertome started talking about how when it's REALLY, REALLY cold, his bike actually freezes the condensation out of the air when he brings it indoors. I made some comment, and I actually had "WARNING: Do not lick bicycle!" as my IM status message for a while. It seems to elicit chuckles.

Also, yesterday at one degree, my hand actually stuck to my bike when I went to lock it up at work. Indeed, it was very, very cold outside. To that, I took Apertome's suggestion to specify "when cold" as well. It looks cheesy but it's kind of funny. I like it.