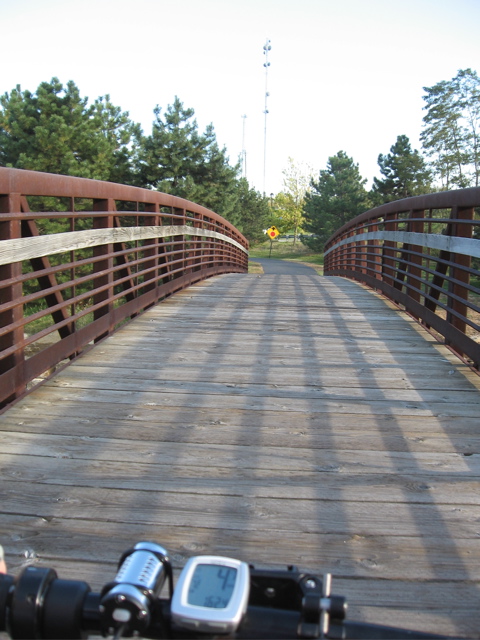 Photo: The sun is getting low early in the day. I crossed this bridge just in time to see a really interesting shadow layout.

The headwinds were about as malevolent as they come, and my upright position on the Diamondback Outlook doesn't make it easy to minimize my frontal area. I spent my entire homeward trip struggling against the breeze. Aside from the extra effort, it was a quite enjoyable ride with temperatures in the low 70s. Once I got off my bike, I could really feel the burn.

My gimpy wrist is feeling alright today, so I think I'm going to give the Trek another try in the morning. I haven't ridden it since I fell off of it, which is what caused my wrist problems in the first place. I need to give it a proper shakedown run this evening to make sure everything is still straight and true. Looking at it from across the room, I can already tell that I scraped 4 teeth of the large chainring. It doesn't look like much carnage, but I can see it from 15 feet away simply because the rest of the chainring is anodized. I'll make sure everything runs smoothly tonight.

Despite 2 weeks of hanging dormant on my Delta Vincent /vin rack, the tires are still holding air perfectly, and I know for fact both tubes are running with multiple patches. I'm actually quite pleased with how the Park Tool glueless patches are holding up. I know I rarely have to top the tires off with regular use, but I was expecting to have squishy tires when I pulled the Trek off the wall this evening.

Random Tunage:
Tumor - Come To Daddy
Eiffel 65 - Blue

Wow. That's random. Some serious darkwave followed by some of the cheesiest eurodance stuff the turn of the century had to offer. Can you believe Blue made it to #4 on US charts back in '99?