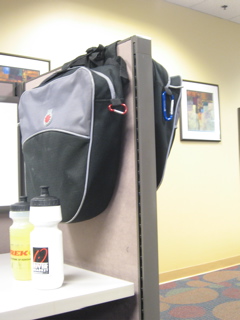 So it begins again. It's 102 degrees Fahrenheit right now, and probably climbing. I got the question again. "So, did you ride today?!" The question was asked with great anticipation. Surely, no sane person would dare venture out in this kind of weather on a bicycle! Be that as it may, no one has ever accused me of being sane.

I thought about saying "No, I just drag these old bike saddlebags in to work every day for the hell of it!" but I bit my tongue before responding.

I didn't show him my last blog post, but I did assure him that I definitely ride in this kind of weather, and that it's all about taking it easy, staying hydrated, knowing when to stop for a few minutes, and paying attention to the early warning signs of heat exhaustion. He kind of rolled his eyes and walked off.

I'm not sure what to make of these kinds of questions. I don't care how they get to work, so I'm not sure why they care how I do it. Perhaps they want to say "I told you so!" about something. I'm not sure.

Anyhow, I'm off to the Gaunt memorial ride after I run some errands and get some supper. I'll have pictures tonight or tomorrow morning.