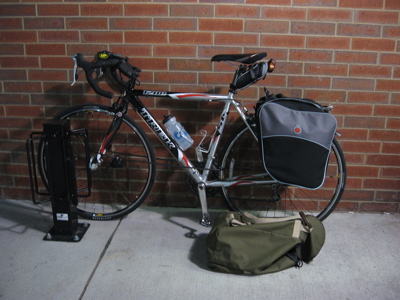 Photo: A nice grocery store run with the panniers. Large items went in the panniers, letting me carry a lot lighter load than usual on my back.

Have I mentioned that I love my panniers? I take them off for recreational rides, but for running errands and going to work, the extra space is really a welcome addition.

It did sprinkle a bit today, but aside from the wind, it was really nice out while I was riding. The sprinkles and cloud cover cooled it off a bit as the evening wore on. I saw plenty of commuter bikes at the bus transfer station on my way home, enjoying the nice weather as well! This evening, after supper with my wife at the college, I zipped down to the bike shop to look at potential bikes for my wife, and to check on the status of a taco'd wheel that they were truing up for my dad's Bianchi. I found a few bikes my wife might enjoy. Some of them with 3-speed Nexus drivetrains, others with more conventional setups. We're planning on taking a few out for a spin on Saturday.

After the bike shop, I came home for a while, then went back out and got some groceries as shown above. When I asked the kid to put the large stuff in the basket without sacking it, and to put the rest in my duffel, he inquired "save a... uhmmm?" as if he was expecting me to know what gets killed to produce a plastic grocery sack. I responded with "save a landfill." It's the best I could muster up.

While I enjoy the idea of conservation and don't like wasteful things, I think sometimes I must come off as a die-hard environmentalist crusader. After all, what other valid reasons are there for using such a quaint machine for transportation?