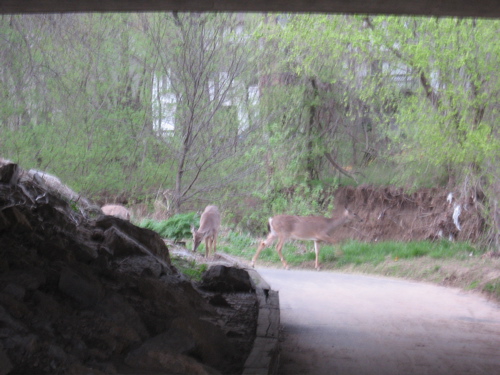 Photo: I'm sneaking up on a herd of deer that are blocking my path.

I left home at about 6:00, figuring I'd ride to the 127th street trailhead of Indian Creek Trail, and ride it as far as I could by 7:00, turn around, and ride home, hopefully getting home around 8:00 which is about the time the sun is down around here.

I ended up winding through Warren T's stomping grounds. I think I got lost right around 7:00. I recall the trail is supposed to go a few miles into Missouri but shortly after crossing Nall (2 miles from the MO state line) I ran into a soccer park, where the trail made a big loop and turned me right back around. It was almost time to turn back anyways, so I just went with the flow, flipped my GPS over to the "Tracks" screen so I could follow my breadcrumbs back home.

Some guy on a mountain bike dropped me on the trail. Rule one of dropping someone is to make sure if you are going to cop an attitude, ride next to someone, give them 'the look' and then try to power off into the distance, make sure you can actually stay ahead. I didn't go into attack mode. I was already 16 miles deep in a 26-mile journey. I just kept my pace (about 14 mph). This guy stopped gaining ground on me about 200 yards ahead. Another 1/4 mile and he was losing ground on me and really sucking wind but we were on a flat stretch! I eventually caught up with him, and casually sauntered by with the industry standard "on your left". How delightfully childish of him.

Then... THEN!! These bugs -- I don't know what they were, baby mosquitoes perhaps -- they were EVERYWHERE by the time 7:30 rolled around. I had to squint my eyes, breathe only through my nose, and frequently blow what one might call "snot rockets" except there was more insect mass than mucous. I foraged onward with my head facing slightly down. My arms became engulfed in these critters and they sounded like light rain on my helmet as I breezed through clouds of swarming, gnat-like organisms.

I finished my ride out back on 127th street, just as I'd come to the trailhead. Back over the viaduct that is the middle leg of my morning commute. Back up Ridgeview. Back home.

Aside from the bizarre creatures I encountered (including the 200 pound variety that attempts to prove his superiority in vain) it was a very pleasant ride. Oh yes, and the trail detour through corporate woods, while paved, might as well be made of boulders. What a disaster!