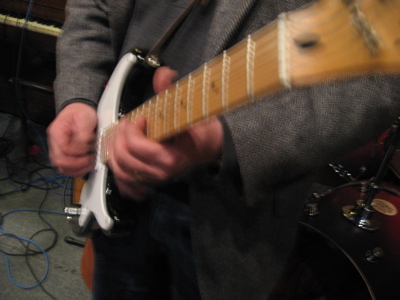 Photo: Motion shot of my dad rockin' out at the Daily Dose last night. The concert was good and the place was hoppin!

Strangely, it felt pretty nice this morning despite being 35 Degrees Fahrenheit. I intentionally slept a bit late this morning to recover from my marathon weekend. Supposedly we're getting a wintry mix today, but I managed to hit the road before it started to mist. I brought my breakfast and lunch with me (Malt-o-meal and leftover sloppy joes from last night) so I won't need to go out until I get off work. I'm hoping that the mist and/or rain stops or at least turns to light snow before 4:30.

My wife's making lasagna and taking it to work today, so I know where I'm going after I get out of here! I want to catch tonight's episode of 24, so I will probably go straight home after I swing by JCCC.