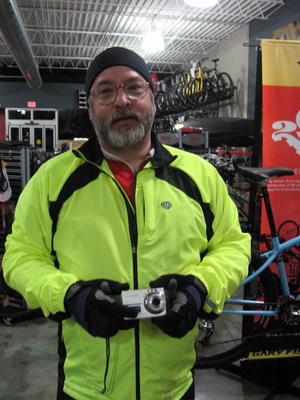 Photo: My friend Tim, who told me about the Monday night "Recovery Ride", chillaxing and geeking out with his digi-cam after the ride.

This was, in fact, my first-ever group ride. The last time I rode with more than one person, I was still in middle school so it doesn't count. I've known Tim for about 5 years or so, but our paths hadn't crossed in real life in almost two years. A few e-mails here or there, or some IM's on occasion. He told me about this ride that was usually a pretty easy-paced crowd and I decided to check it out tonight since the weather was so nice.

Also, it's been what seems like months since I've put any real miles on the Outlook. I miss my trigger shifters, but the Outlook ran so smooth tonight. I'm really glad I went. I was figuring I'd get a few jeers from the crowd for showing up in bluejeans and riding a mountain-biased hybrid in a pack of road bikes, but they were all really nice.

To top all that off, Mark, who I believe organizes the Monday night rides, also heads up localcycling.com. I knew Kansas City was one of their cities covered as I've had a link to their Kansas City page for a while now. I had no idea I'd run into the guy behind the site, though.

I saw a few people on the ride were using Redline Conquests. I had to refrain from drooling, but I hope to soon be able to build one up. It's kind of my dream commuter bike, capable of handling the less-than-ideal weather and road quality that I encounter, while still being a very capable and nimble road machine.

Bonus photo: Friday's fun snow adventure waiting for the bus.