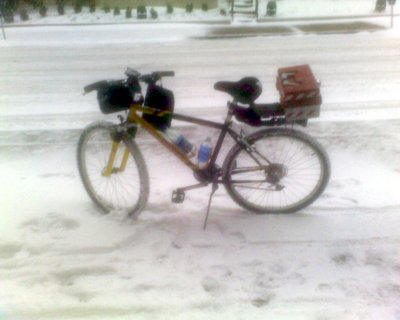 From here, I'll chronicle my commutes and other interesting bicycling stuff that I feel like sharing. Last week was my first real test of fortitude and dedication. It started out with rain all day tuesday. This made for extremely wet and slippery roads for the earlier part of the week. Wednesday afternoon, we got some flurries and snow, which blended with the rain water to form a slush that was not easy to ride through.

Thursday morning, that slush had frozen over completely, making for a very cold and slippery ride in. Fortunately I did not fall over or lose my footing once. Thursday evening, it had turned to massive amounts of snow (about 8 inches, but with snow drifts approaching a foot and a half deep). I rode 3 miles on ice thursday morning, and 3.2 miles in foot-deep snow thursday night.

This week has been substantially better. Aside from being really cold yesterday, it was an uneventful commute in. A typical monday, if you will.